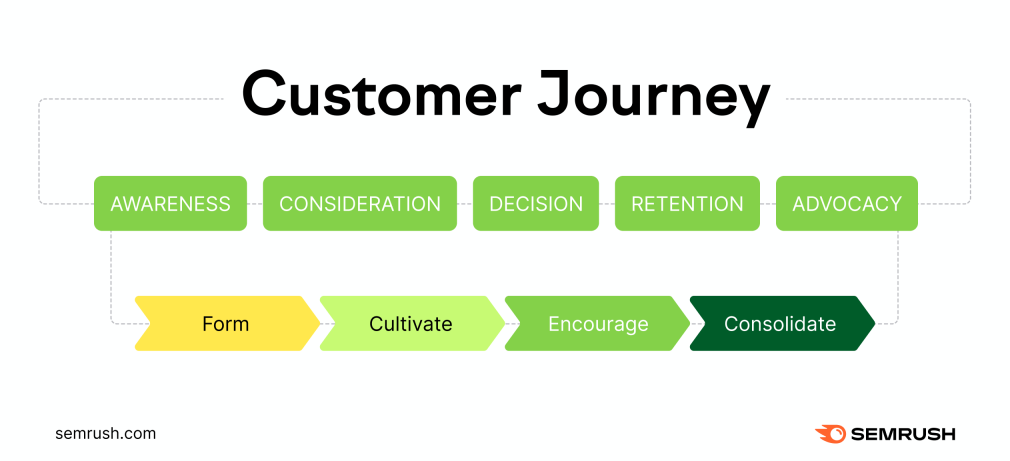 Marketing goals and the connected role of content marketing
Content marketing is about using images, words, interactive applications, plain old information and other forms and formats of audience-centric (or customer-centric) and persuasive/engaging content to achieve marketing and business goals.
The key ultimate goal of content marketing – and other "forms" of marketing – is to increase profit but the ways to do that have changed. The number of content formats people value has exploded. The days of using one channel to reach an audience are over. The ways customers inform themselves, buy, share and interact with each other have evolved.
Personal and personalized approaches and "relational" community-oriented strategies can go hand in hand with segmentation and more general views. Utterly customer-centric and individual strategies are further enabled in the data-driven marketing context of our big data age and in less automated and more human views (which is not the same as saying automation is bad, it all depends). And so, no "form of marketing, including content marketing, can be viewed in an isolated way, even if that's still too often the case.
Just as content marketing can't really be seen in an isolated way (it's part of that bigger integrated marketing puzzle, essentially revolving around the customer and customer experience, in correlation with the brand's value proposition), we really can't isolate the marketing goals content marketing can fulfill.
We know content marketing is an umbrella term for a broad variety of tactics and techniques. It's pervasive. That's not because of content marketing (alone). It's about the very old and simple fact that content (or information if you prefer, whatever form it takes), is essential in all communication and marketing.
When we talk about a strategic or planned approach to content marketing, we shouldn't just look at content marketing techniques as such but also have a strategic view that goes beyond what we've come to call "content marketing".
Marketing goals and content marketing: think out of the box
Although specific forms and even formats and tactics in (digital) marketing are better suited to achieve specific goals (where the need to specialize comes in, in order to achieve these goals optimally), in general the individual marketing goals that can be achieved using content marketing overlap with those of many other tactics and marketing "forms" (where the need to have very customer-oriented generalists and strategists comes in).
Research aims to show us what marketing goals marketers serve using content marketing as you can see below but you're totally free to think out of the box and do things differently than your peers of course. No one (should) know(s) your business and customers better than you (do you?). And there is ample room for trying out new stuff, making the difference, thinking out of the box and focus on your strengths and the needs and preferences of your customers and their influencers, connections, etc.
You probably noticed some of the above mentioned organizational goals are not really marketing goals but rather intermediary goals. Engagement, for instance, can mean many things 'en route' to marketing goals.
Obviously, it's nice to know what goals you can fulfil with content marketing and see what your peers try to achieve with it. But let's face it: most organizations will start from their objectives, customers, priorities, current situation, realities, etc. and see how to achieve these goals. The latter part, the "how" and along with it the required resources, channels, tactics etc., are work for the digital marketing squad(s) and/or the digital marketing/strategy director (or any other operational marketing lead, depending on the business context).
Educating/informing customers, partners and employees (fact: many contact center agents don't know what content is on their organization's website). It starts with making the most essential information available and can go all the way to channel enablement, partner enablement, employee enablement and the next "goal" and thus also includes essential content such as brochures and whatnot. At a specific point in time people want that too.
Thought leadership. This is probably one of the vaguest intermediary goals around. However, by making viewpoints, knowledge and expertise about what audiences care about visible, it builds trust and and can make you a trusted advisor. Practice leadership and proven expertise trumps thought leadership in the strictest sense.
Entertaining. You are not a publisher. However, by entertaining audiences, offering them content beyond the content they value most, various marketing goals can be served. We're coming pretty close to engagement and branding here although entertaining through entertaining content can also be used for other goals. It's not a goal as such but it can serve as one.
Proving and overcoming objections. You don't know what people are looking for when they first get in touch with your organization or content. Content can be used in all stages of the buying journey and for sales. Content that focuses on pain points encountered, leading to buying decisions, can include all types of content people might be looking for during that journey, including content that proves and overcomes potential objections.
Sparking debate, interaction and community. The way people interact with content can lead to valuable insights and discussions, leading to new content and insights. Communities are not necessarily enabled around content and debate but they do thrive when they offer what people look for. Interaction and debate can be an element (remembering the fact the majority consists of lurkers) and information/content as well. Debate can be used for many goals, as can community marketing.
Improving the customer experience and optimizing marketing efficiency. This, for us, is the most important and overlooked aspect. A lot of marketing goals served with content marketing revolve around the top and the bottom of the proverbial funnel. Fortunately, the importance of content for lead nurturing is growing in the eyes of many marketers. What is often missing though is a focus on what happens outside of the proverbial funnel and has to do with making the lives of customers easier (also when doing business with you), optimizing all your other marketing efforts from the customer perspective and improving the customer experience across each single piece of content and focusing on the middle and long term but also on low-hanging fruit and the massive leaks we find in virtually all customer-facing processes.
Sales, partner and stakeholder enablement. We mentioned this earlier but it's so often overlooked. The role of marketing is also to empower all stakeholders in the business process, from sales to partners and contact center reps so they have the material they need to do what they have to do. Just knowing where the right content sites and unlocking it in relevant ways using content management and information management processes and tools matters too, especially in an age of ever more information (what Big Data ultimately needs to result in: from data to information to insights to knowledge and process activation, including content analytics) and ever more unstructured data.
There are more content marketing objectives than you think
Smoother collaboration – If everyone is in agreement on company objectives, it'll be easier to collaborate on content. For example, if everyone on the content marketing team believes that one objective should be to retain existing customers, then the team will make sure to approve some ideas that help customers get better results (not just write about product announcements).
Employees and ambassadors can share approved content – With a more holistic view of what content marketing can achieve, it's also be easier for employees and other ambassadors to have lots of approved content to share. Especially in the B2B world, employee advocacy is an important strategy that can make sure that your sales team is staying top of mind with active and inactive leads. When you see this as an important objective, you can create content with sales in mind, instead of just focusing on driving more MQLs.
The top 8 content marketing objectives
1. Setup long term lead generation
SEO is a key reason to make blogging part of your content strategy. Google doesn't like big fluctuations in their search results pages, as this would be bad user experience for people trying to find things. If SERPs constantly changed, you'd be wondering where that great article you read yesterday went.
But to do this, you need to release quality, long form SEO-optimized content frequently. The early bird does get the word with Google, so you don't want your competitors to beat you to the top of SERP. It's harder to knock quality off of SERP than to be the first high quality piece of content.
2. Directly impact new customer revenue
You probably want to capitalize on any extra attention you're getting. Now is not the time for long-ranging SEO plans for very long-tail key phrases that bring in people who are not aware of your solution or the problem it solves.
Check out this example from Loom. They went for the keyphrase "Loom vs Zoom" probably in direct response to the increased search volume for this keyphrase and because of the questions their sales teams and customer services teams are fielding.
What content can you create that will directly impact company revenue? Content marketers often shy away from being salesy, but oftentimes there are content topics that are informative to your audience and help you gain sales all in one.
3. Gain and nurture email subscribers
Alright, so maybe your company is not crushing it right now like Zoom or Loom. Maybe your revenue is struggling, or you're somewhere in the middle. By gaining more email subscribers and continuing to nurture them, you can keep up a connection with leads for when they are ready to buy from you.
4. Improve customer retention
The QuickBooks blog is doing an incredibly good job of being a resource for their current customers. They've got content that will help their customers stay in business, which of course in turn means that these customers can keep their paid subscriptions active.
Even if your company isn't a place to create an initiative to help your target audience, you can still create resources to make it easy for them to find the help that's available to them. Even if that help is something simple, like comedic relief.
5. Foster customer loyalty
People love to do business with businesses that make them feel good. Can your company give back right now? How you can align senior leadership and content together to create a campaign that is inspiring and benefits everyone involved?
Edgar is donated 100% of their new sales from April 20 – 24 to the Freelancer Relief Fund, which was started by the Freelancer's Union to procure funding from government sources and distribute it to freelancers who needed it during the start of the pandemic.
6. Build interest groups for retargeting
Content doesn't always produce immediate sales. You need to be planning ahead and figuring out ways to grow your audience of interested buyers. Then you can have more people in your retargeting campaigns, which tend to convert at much higher levels than other campaigns because it's not just cold traffic.
For example, if you work at an email marketing software company, then you don't want to create an interesting campaign about social media. Your freebie download or webinar should be as closely related to the value and result of your product as possible. That way, the interest you capture is most likely to convert at some point in the future.
7. Share customer results
Share customer results through your content, not in a classic case study but more of a "how to repeat this success" style blog post. When you do this, you actually crossover into a whole lot of other content marketing objectives. You can directly gain new subscribers, leads, and customers. You can increase your brand authority as a company that gets results. And you can inspire brand loyalty and increase customer retention because customers who are not yet at that level of success will be excited to double down on your product and use it even more.
The 5 Elements of a Powerful Content Marketing Strategy
An effective Content Marketing strategy should have these five core elements to be successful: audience personas, brand positioning, owned media value proposition, business case, and an action plan. Let's see why these elements are essential and how you can start implementing each of them.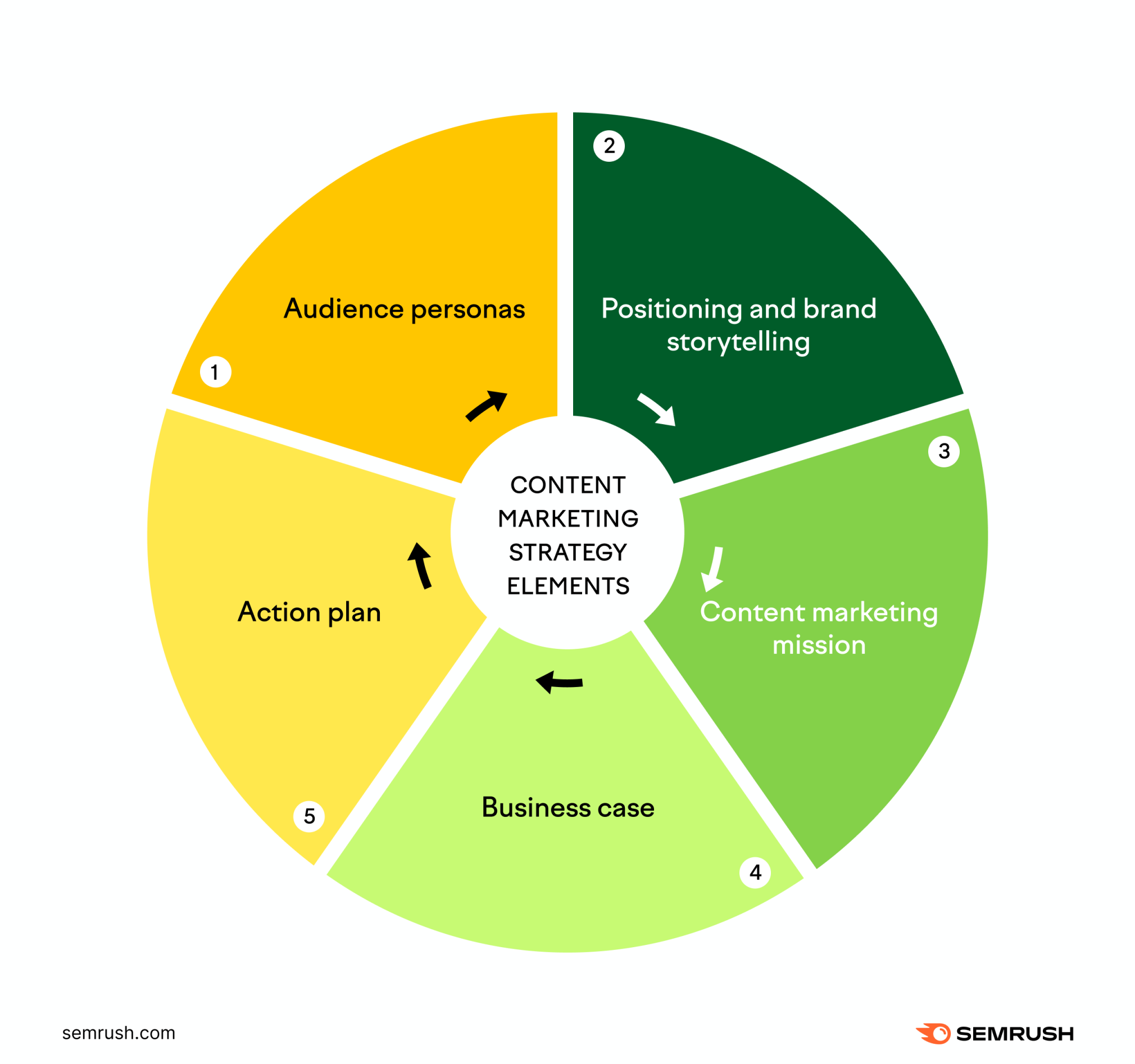 1. Audience Personas
You can't really tell the story of your brand if you don't know who you are telling your story to. That's why your first step will be to identify the audience you are attempting to target with your content. There are multiple ways to do this:
Once you have your audience in mind, you can use our free Personas tool to put them into writing. You'll want to be able to clearly and succinctly communicate who your audience is to all stakeholders and anyone involved in brand messaging. Start by exploring these persona examples for your inspiration.
2. Positioning Your Brand and Story
Use this information to shape the main pillars of your brand story. A brand story is a summary of your company's history, mission, purpose, and values. It can help you choose the right direction in your content marketing strategy, identifying to right messages and topics to translate with your content.
3. Content Marketing Mission Statement and Owned Media Value Proposition
To establish your brand as a credible content publisher, define your owned media value proposition. It'll help you find a differentiation point in your content strategy and compete more effectively. To do so, answer the following questions:
4. Business Case and Content Marketing Goals
Identify business goals your company needs to achieve and figure out how content marketing will bring your company closer to those goals. How many resources do you need to invest in your content strategy and what results do you want to generate?
5. Action Plan
Finally, you will list out your main content marketing campaigns and projects on deck for the year and add them to your content plan. Think about how they will achieve the content marketing goals you've previously set for your business.
To decide on your optimal content formats and channels, you'll need to look at your historical content performance and further analyze your audience, which we'll discuss later. If you need inspiration, check out our 2022 list of the most remarkable content marketing examples.
7 Steps to Creating a Complete Content Strategy
Long-term planning allows you to anticipate challenges and allocate resources effectively. Laying out these seven steps will help you develop and implement a content strategy aligned with your marketing and business goals.
As mentioned earlier, you must document your plan. This could be a slide deck, a Google document, a spreadsheet, or another format that works well for your business model and can be easily shared with all essential stakeholders.
Step 1: Determine Your Audience and the Story You Want to Tell with Your Content
While your buyer personas will form the base for your content strategy, your audience isn't solely made up of buyers. Audiences include people who begin interacting with your brand long before they intend to make a purchase.
Besides, becoming a valuable source of information can help you build a community of brand advocates who will spread the word and strengthen your thought leadership. We sometimes call these people "reader personas", highlighting that it's all about delivering value to your audiences vs. pushing your products or services.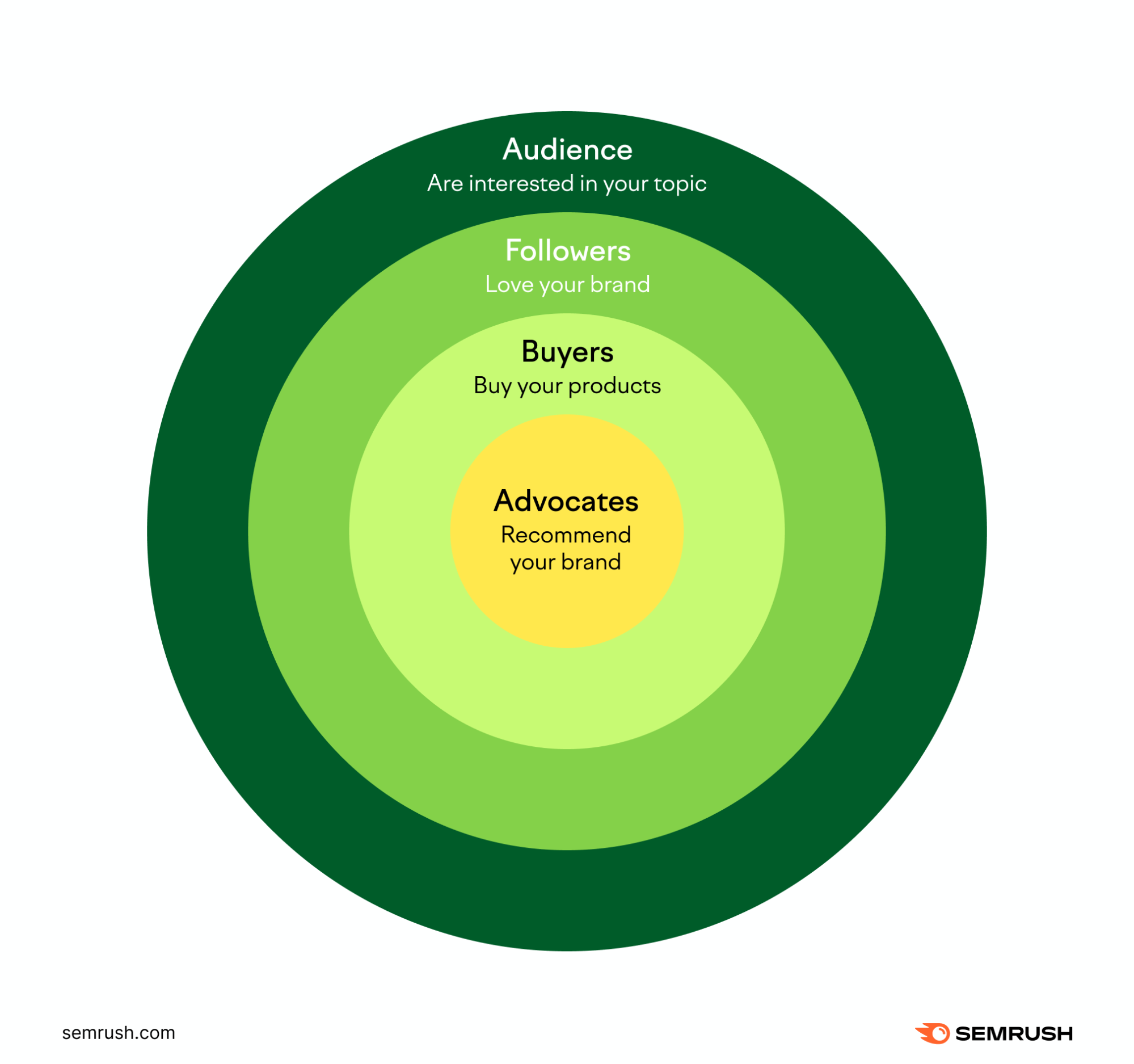 Red Bull is an excellent example of a brand that creates content for audiences, not buyers. Red Bull's owned media doesn't focus on its product; it covers topics the audience is interested in, like extreme sports and once-in-a-lifetime experiences. You can easily identify the target audience—young and adventurous people, passionate about sport and an active lifestyle.
Red Bull showcases the importance of integrating your brand story into every content piece and every message sent to your audience. Remember about your mission, where you stand, and why you are sharing content in the first place. Creating this unique voice and character can help you stand out in the age of "content shock."
The Empathy Map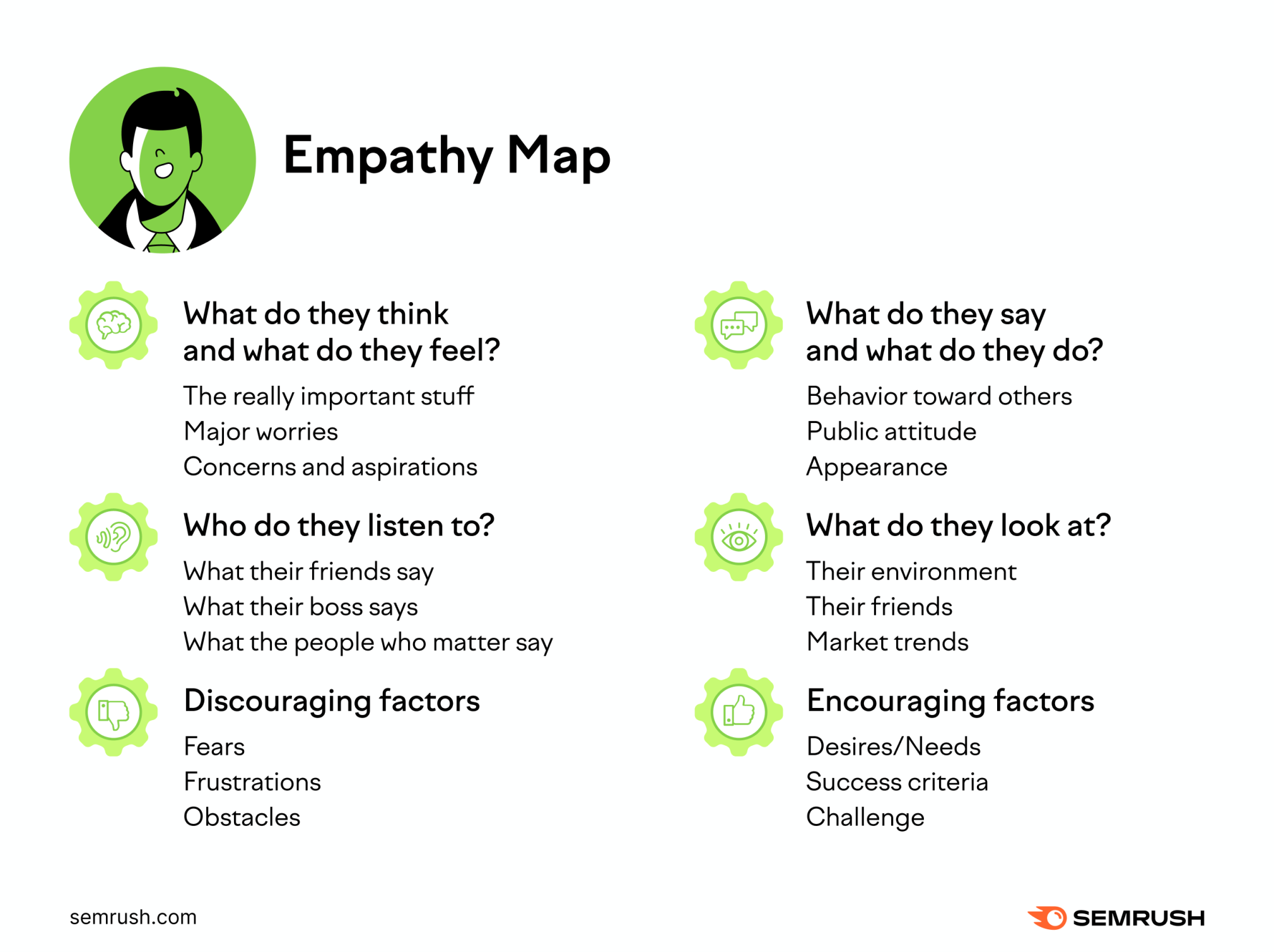 The "Jobs to Be Done" Framework
For example: When I work, I spend too much time completing all my tasks, that's why I want to find a tool to improve my time management, so I can spend more time with my family.
Once you have an understanding of the prospect's current problem, the solution they need, and the result they envision, you can create compelling content that can transform them from newcomers into your brand advocates.
Step 2: Analyze Historical Content Performance and Establish Your Content Marketing Goals
Such metrics might be primary: e.g., revenue generated by content marketing or organic traffic and the number of leads. Others might be secondary: e.g., organic traffic, ranking, and shares.
Remember that we all live in a world of limited resources. Your goals and plans are closely tied to the available budget and capacity of your team. So, make sure to take this into account when setting your targets.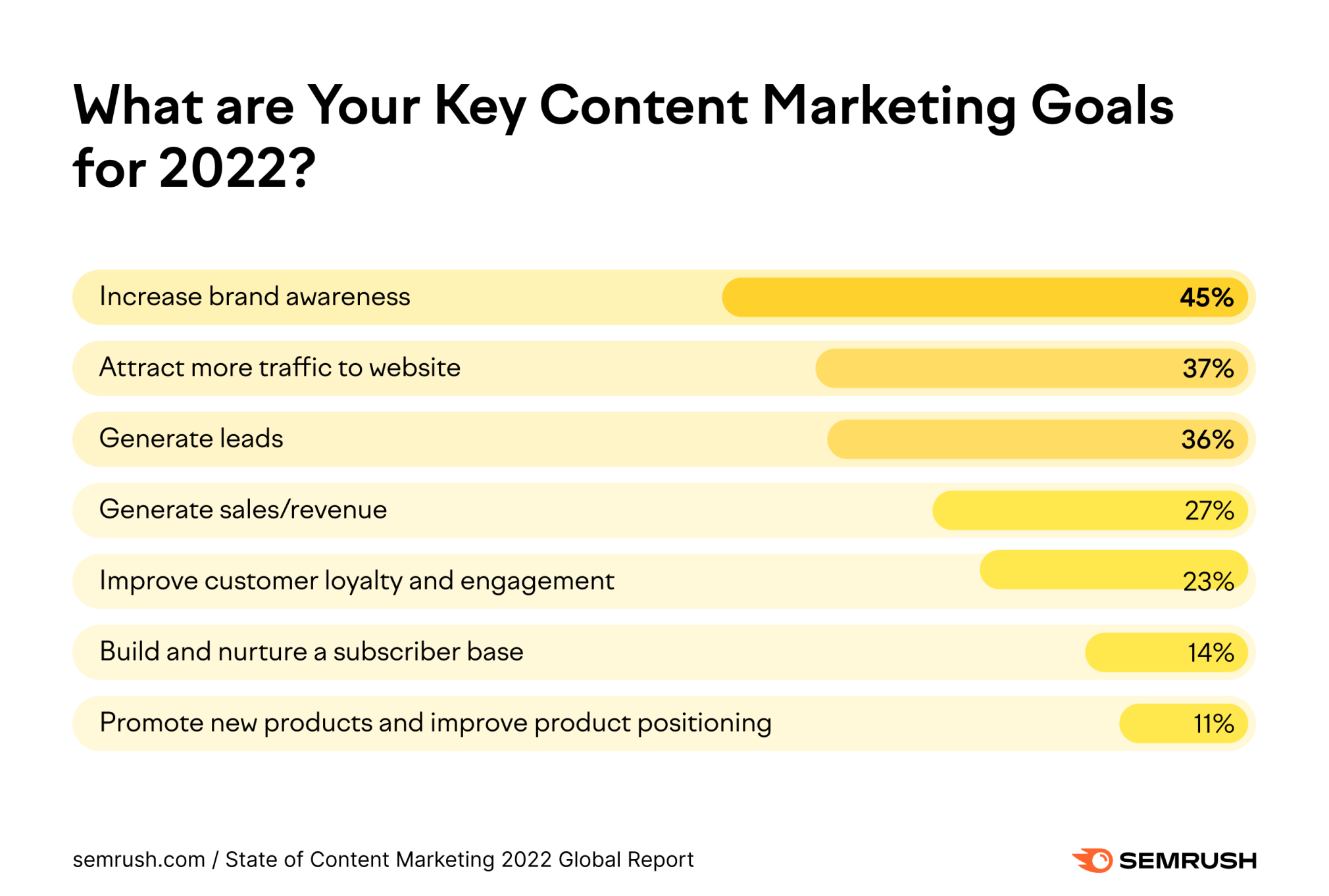 But we encourage you to always look at the bigger picture and see content marketing as an integral part of your overall marketing strategy. An example of an overarching goal could be: "In 2022, we want to achieve a 20% increase in revenue created by organic content and generate 15,000 MQLs with a budget of $30,000."
Pro tip: Take the buyer's journey into account when setting your content strategy goals. For example, in B2B, the sales cycle tends to be much longer than in B2C. So, multitouch attribution would be more optimal when analyzing your content performance and defining your KPIs (key performance indicators).
Goal-Setting Frameworks
Let's look at some progressive goal-setting frameworks that can help you at this step. While you may be more comfortable with traditional goal-setting frameworks like SMART (Specific, Measurable, Achievable, Relevant, and Time-Bound) goals, flexibility is key to setting realistic benchmarks. Consider using the framework CLEAR, which can help you become more agile in a fast-changing environment.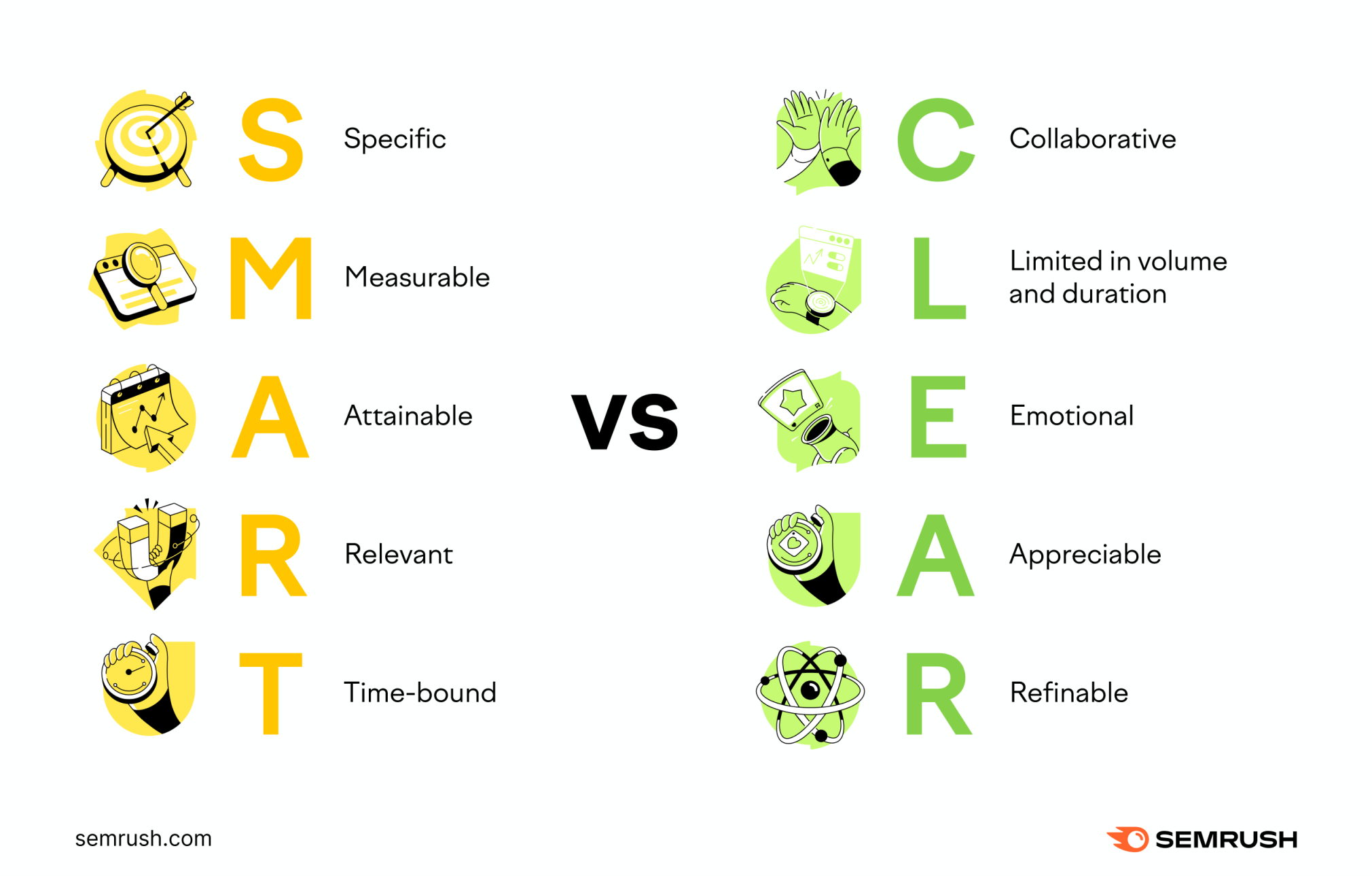 With this approach, you can target an ambitious result, but set a minimum threshold for reaching the goal. Progress indicators (0–100%) allow each team member to see how attainable each goal is and understand what remains to be accomplished.
Reader Interactions
You might also like:
How to Overcome Writer's Block with Neuroscience
10 Timeless Persuasive Writing Techniques
The 5 Things Every (Great) Marketing Story Needs
How to Make Money as a Freelance Writer: 15 Writing Business Essentials
Quit Annoying Your Audience! 3 Simple Steps to Write Better Content
Reader Comments (62)
I think one of the best reasons for creating content is building your own expertise. Educating others is maybe the best way to learn your craft better. Writing a blog post, preferable a relatively long one, will force you to think about questions your readers/prospects may have, and then answer them clearly.
I guess you could also add, as a goal, customer service/support. As you did with the recent "Genesis for Beginners" PDF. It qualifies as content marketing, but also helps existing customers. FAQ's are similar in nature, but less content-marketing-like.
Don't forget SAQs – Should Ask Questions: questions a potential buyer should ask you about
your product or service – if only they knew what you know. These are the important things that
differentiate you from your competitors.
It would make a great blog post too: "7 Questions You Don't Know You Should Ask When Buying *blank*" 😉 You're customers would be better educated, which leads to better buying decisions, which leads to happier customers. And you'd gain credibility, because you helped them make a better choice.
It's funny you said that, because I often sit down to write blog posts on issues I'm currently tackling. It helps me flesh out and resolve my own problems, or even just jogs my memory and helps me complete whatever task I'm working on.
11. To test new ideas, quicker. Before going full steam ahead with new positioning or a new offer, content gives you the opportunity to see if it resonates with your audience. And because all it may take is one article to perform the test, you can optimize how quickly you learn.
12. To build a community. It's great having people pay attention to you, but content can also be the social grease that allows your prospects and customers to talk to each other. That's a community, a tribe, and content can make it happen.
16. To turn a service into a product. Content can help you reach a goal of transforming parts of your service offer into a product. For instance, a wedding planner can sell a checklist that helps brides organize a wedding.
All in all, content marketing plans need to rely on the people that read your material; it is easy to forget this. People producing content are highly knowledgeable about a particular subject and think they know enough to produce the necessary content.
However, a strong content marketing plan involves reaching out to your readership: survey your readers to discover what they want to know, what questions they need answered and what kind of content they enjoy the most.
You know how you have probably heard something before, but suddenly it makes so much sense? Sonia, you have a wonderfully clear way of breaking down concepts into easy-to-follow steps. I usually operate under the false assumption, "if I write it, they will come." Thanks for helping shift my perspective to the bigger picture.
The Collins chapter (it's in Choose to be Great) on bullets and cannonballs is really good. His version of "bullets" is small test products (similar to The Lean Startup), but content lets you fly a trial balloon even before you get to the small product stage.
Content and marketing are both equally important in my experience, I like the goals you went through Sonia, if you take one of them and think about it as you're writing a post in can help you in the way you'll write it and chances are that post will reach out to the intended reader.
These are essential points that we all must cover. Perhaps adding some ideas for being able to collect the information better in terms of solving the problems and potential solutions that they can use shown to these individuals.
I think the idea of 'exploring prospect pain' is a terrific one – it's something that I see done well in some people's sales literature. Others completely shy away from discussing pain, it's all about the product-as-magic-bullet.
I'm also laughing at the 'experience of life with your product' remembering my ad testing days. Both of these things can be a huge struggle for business owners, because we fail to get into our customers' minds.
I find your writing to be very useful & engaging. It resonates with me in many ways. Ok…It Rocks ! Let me add- I think in our new customer driven marketplace that the customer is King- not content. In a truly customer centric organization the first goal should always be provide meaningful and relevant content to customer. best g
Producing quality content every time will build trust with your visitors. If you do that, eventually the search engines will view your site favorably. Hopefully, the search engines will continue to get better at finding ways of identifying high-quality content. Thanks for the tips!
Resources:
https://www.i-scoop.eu/content-marketing/marketing-goals-connected-role-content-marketing/
https://storychief.io/blog/content-marketing-objectives-examples
https://www.semrush.com/blog/content-marketing-strategy-guide/
https://copyblogger.com/content-marketing-goals/